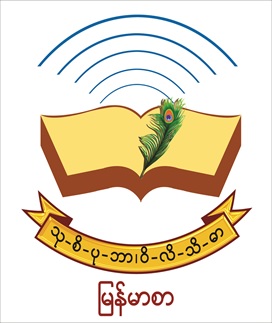 Vision
To be able to become and proudly stand as an academic discipline which can be of considerable support and a fount of knowledge in nuturing and moulding new generations born and came of age in contemporary knowledge age to develop into graduates who embrace and continue lifelong learning  throughout their lives.
Mission
To generate modern, forward-looking , well-educated  and well-rounded  graduates  who are truly  adroit at  and  proficient in their mother-tongue, Myanmar Language, and also well-read in Myanmar Literature.
To help originate and foster the development of future generations' educational skills, intellectual skills,  social  skills,  and research skills which can contribute to the progress of the education of Myanmar as well as the success of nation building.
No
Name
Rank
Degree
E - mail & Phone No
Photo
1.
Dr. Khin Ma Ma Lay
Professor and Head
Ph.D
drkmml.mtl@gmail.com
09-2016031
2.
Dr. Khin Aye Thet
Professor
Ph.D
d.khinayethet@gmail.com 09-5060458
3.
Dr. Maw Maw Aye
Associate Professor
Ph.D
dawmaw2aye@gmail.com 09-2300440
4.
Dr. Aye Aye Lwin
Associate Professor
Ph.D
ayelwindraye22@gmail.com 09-2131591
5.
Dr. Win Win Hlaing
Associate Professor
Ph.D
hlaingwinwin@gmail.com 09-43013914
6.
Dr. Myint Myint Kyi
Associate Professor
Ph.D
shinminsaw@gmail.com 09-794663066
7.
Daw Theingi Shein
Lecturer
M.A
09-2301093
8.
Daw Myint Myint Soe
Lecturer
M.A
09-683154589
9.
Daw Su Su Hlaing
Lecturer
M.A
susuhlaing85@gmail.com 09-43153042
10.
Daw Thida
Lecturer
M.A
09-798502070
11.
Daw Sandar Aung
Lecturer
M.A
09-256486733
12.
Daw Nilar Myint
Lecturer
M.A
09-258630922
13.
Daw Naing Naing Maw
Lecturer
M.A
09-794857377
14.
Daw Than Than Wai
Lecturer
M.A
wai31219@gmail.com 09-977054402
15.
Dr. Nang Hom Aye
Lecturer
Ph.D
nanghomaye38@gamil.com 09-420142920
16.
Dr. Thu Zar Lin
Lecturer
Ph.D
dr.thuzarlinn@gamil.com 09-401648364
17.
Daw Zin Mar Lwin
Assistant Lecturer
M.Res
09-950477946
18.
Daw Than Than Htay
Assistant Lecturer
M.Res
09-899998847
19.
Daw Si Thu Kyaw
Assistant Lecturer
M.A , B.Ed(Eco)
sithukyaw.stk1977@gmail.com 09-256047437
20.
Daw Khin Myo Swe
Tutor
M.Res
nyochawlay931@gmail.com 09-977502081
21.
Daw Nilar Myint
Tutor
M.Res
09-259554397
22.
Daw Kyaw Kyaw
Laboratory technician 3
B.A
09-256136698
23.
Daw Aye Aye Maw
Laboratory technician 5
(10)standard
09-401674050