A BRIEF HISTOR
Department of mathematics was established since the establishment of Pakokku Regional College in 1977-1978 academic year.
1.DEPARTMENT LOGO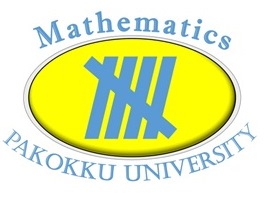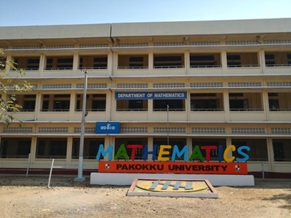 THE DEFINITION OF MATHEMATICS DEPARTMENT LOGO
Tally mark means calculation and counting. So the overall shape of the logo implies "brainstorming". For the usages of the colours, Yellow represents brilliance and brightness. The inner light blue refers to confidence and stability while the outer navy blue is associated with wisdom and intelligence. Using an ellipse in the logo conveys community and unity.
2.(A) OUR VISION
TO CREATE THE HUMAN RESOURCES THAT CAN GENERATE A LEARNING SOCIETY CAPABLE OF FACING THE CHALLENGES OF THE KNOWLEDGE AGE.
2.(B) OUR MISSION
TO UPGRADE THE CURRENT NATIONAL EDUCATIONAL STANDARD INTO INTERNATIONAL LEVEL
TO UPGRADE STUDENTS CAPACITY TO INTERNATIONAL LEVEL
TO TRAIN STUDENTS TO BECOME OUTSTANDING LEDERS FOR THE FUTURE DEVELOPMENT OF THE COUNTRY
No
Name
Rank
Degree
Ph & E-mail
Photo
1.
Dr. Mg Mg Win
Professor and Head
Ph.D
mgmgwin23pku@gmail.com
09 - 254307573
09 - 425552484
2.
Dr. Nwe Wai Aung
Professor
Ph.D
nwewaiaung70@gmail.com
09 - 793766745
3.
Dr. Saw Yu Kyi
Associate Professor
Ph.D
masaw005442@gmail.com
09 - 402512054
4.
Dr. Daw Than Nwe
Associate Professor
Ph.D
thannwe.itunes@gmail.com
09 - 2029332
5.
Dr. Kaythi Hnin
Associate Professor
Ph.D
kathyhnin14970@gmail.com
09 - 43029685
6.
Dr. Aye Aye Win
Associate Professor
Ph.D
drayeayewin198@gmail.com
09 - 256115455
7.
Daw Khin Saw Lwin
Lecturer
M.Sc
09 - 794650594
8.
Dr. Moe Moe
Lecturer
Ph.D
moemoemath9@gmail.com
09 - 43154125
9.
Dr. Kyaw Htin Myint
Lecturer
Ph.D
Dr.khm.math@gmail.com
09 - 420069124
10.
Daw Moe Moe Oo
Lecturer
M.Sc
moemoeoo102233@gmail.com
09 - 2130426
11.
Daw Myo Kyi
Lecturer
M.Sc
dawmyokyi2020pakokku@gmail.com
09 - 43167131
12.
Dr. Thandar Aung
Lecturer
Ph.D
microthandaroo@gmail.com
09 - 792872857
13.
Daw Soe
Lecturer
M.Sc
dawsoesoe3181@gmail.com
09 - 798836982
14.
Dr. Kyi Kyi Khing
Lecturer
Ph.D
kyikyikhaingkq@gmail.com
09 - 43008203
15.
Dr. Su Su Htay
Lecturer
Ph.D
susuhtay13509@gmail.com
09 - 787706527
16.
Dr. Aye Myint Swe
Lecturer
Ph.D
ayemyintswe24@gmail.com
09 - 401501344
17.
U Win Min Tun
Lecturer
M.Sc
winmintun007@gmail.com
09 - 400410933
18.
U War Htun
Lecturer
M.Sc
khanomtlang@gmail.com
09 - 776670521
19.
Dr. Ei Zin Phyoe
Lecturer
Ph.D
dreizinphyoe727@gmail.com
09 - 43042525
20.
Dr. Aye Myat Mon
Lecturer
Ph.D
monmon2003850@gmail.com
09 - 2003850
21.
Dr. Zar Zar Moe
Lecturer
Ph.D
zarzarmoe19831983@gmail.com
09 - 43009913
22.
Daw Zar Ni Ni Aung
Lecturer
M.Sc
zarniniaung371225@gmail.com
09 - 269279009
23.
Daw Ei Ei Nwe
Lecturer
M.Sc
eieinwe5685@gmail.com
09 - 256008150
24.
Daw Shwe Zin Win
Lecturer
M.Sc
shwezinwin050@gmail.com
09 - 797599167
25.
Daw Pa Pa Lin
Assistant Lecturer
M.Sc
gracefullady55@gmail.com
09 - 403560355
26.
Daw Thandar Lin
Assistant Lecturer
M.Sc
thandarlinn158@gmail.com
09 - 961007735
27.
Daw Yin Yin Myint
Assistant Lecturer
M.Sc
yinmyint987@gmail.com
09 - 961700474
28.
Daw Khin Hnin Thwe
Assistant Lecturer
M.Sc
khinhninthwe7777@gamil.com
09 - 40763411
29.
U San Cho
Assistant Lecturer
M.Sc
Usancho.com@pku
09 - 259531072
30.
Dr. Htay Htay Win
Assistant Lecturer
Ph.D
winh4387@gmail.com
09 - 402711192
31.
Daw Cho Cho Soe Wai
Assistant Lecturer
M.Sc
chochosoewai@gmail.com
09 - 976560851
32.
Dr. Khin Pyae Sone Win
Tutor
Ph.D
khinpyaesonew@gmail.com
09 - 797789473